Which tool versions are you using?
Platform: v23.07.0
Python: v3.11.4
Isolation mode: docker (WSL)
Current Behavior
I've run the 1st app as in the website tutorial and the beam was showing and all okay. Then in the same tutorial, when I copy and paste the same more advanced script (which uses some packages) I have a problem that these packages are not identified when I run the app. Specifically, when I run "viktor-cli start" in Ubuntu it ends with this error:
"Traceback (most recent call last):
File "viktor_connector/connector.pyx", line 692, in connector.ManifestHandler.run
File "/usr/src/app/app.py", line 3, in
import plotly.graph_objects as go
ModuleNotFoundError: No module named 'plotly'"
This is despite that plotly is installed in my python as I used to do usually (pip install plotly), but am I missing anything here as I am running Viktor in wsl ?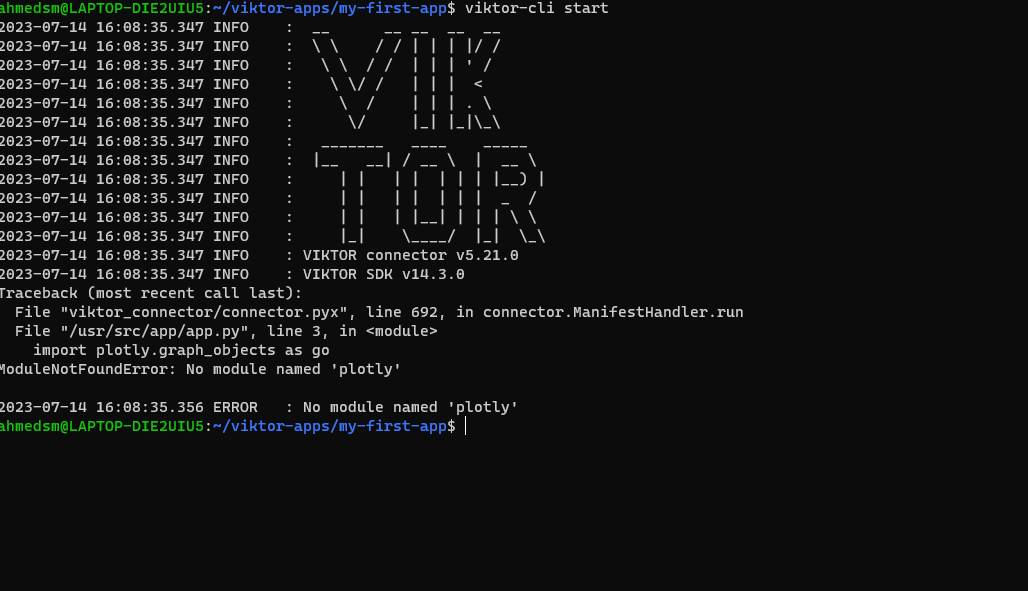 …
Expected Behavior
It should just use the installed package plotly!
Context (optional, but preferred)
I am very new to Viktor, but I have used Python a bit in the past, so I am familiar with python packages etc (although not in advanced level). I am just running the tutorial here (Getting Started - Create your first app | VIKTOR Documentation).
Any help is much appreciated as I really don't know what to do.
Thanks,
Ahmed