Hi VIKTOR team.
I recently did a workshop with Marcel and Jasper and we struggled to get the Grasshopper Tutorial working. Since doing the workshop, and trying to debug, I cannot find any solutions.
My setup
Windows 11 Pro version 22H2
PyCharm Professional & Community - Latest Version
Python 3.10 installed from Windows Store
Rhino v7 sr32 (latest)
Hops v0.16.2 (latest)
All dependencies installed: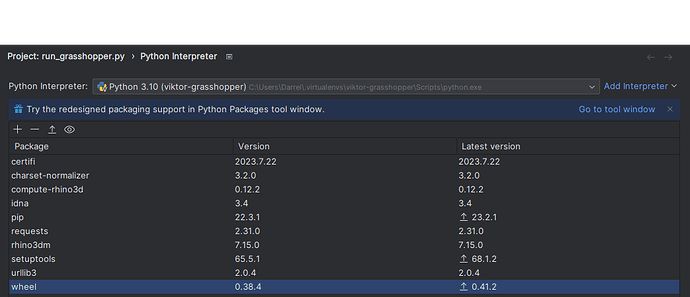 Debugging Tried
I tried different ports, such as localhost:127.0.0.1
I tried opening the firewall connections for Rhino, PyCharm, etc.
I tried running the 'run_grasshopper.py` script while the internet was off
I tried running on Private or Public wifi networks.
The ERROR CODE to the Rhino Compute localhost:
Traceback (most recent call last):
  File "C:\Users\Darrel\.virtualenvs\viktor-grasshopper\lib\site-packages\urllib3\connection.py", line 203, in _new_conn
    sock = connection.create_connection(
  File "C:\Users\Darrel\.virtualenvs\viktor-grasshopper\lib\site-packages\urllib3\util\connection.py", line 85, in create_connection
    raise err
  File "C:\Users\Darrel\.virtualenvs\viktor-grasshopper\lib\site-packages\urllib3\util\connection.py", line 73, in create_connection
    sock.connect(sa)
ConnectionRefusedError: [WinError 10061] No connection could be made because the target machine actively refused it

The above exception was the direct cause of the following exception:

Traceback (most recent call last):
  File "C:\Users\Darrel\.virtualenvs\viktor-grasshopper\lib\site-packages\urllib3\connectionpool.py", line 790, in urlopen
    response = self._make_request(
  File "C:\Users\Darrel\.virtualenvs\viktor-grasshopper\lib\site-packages\urllib3\connectionpool.py", line 496, in _make_request
    conn.request(
  File "C:\Users\Darrel\.virtualenvs\viktor-grasshopper\lib\site-packages\urllib3\connection.py", line 395, in request
    self.endheaders()
  File "C:\Program Files\WindowsApps\PythonSoftwareFoundation.Python.3.10_3.10.3056.0_x64__qbz5n2kfra8p0\lib\http\client.py", line 1278, in endheaders
    self._send_output(message_body, encode_chunked=encode_chunked)
  File "C:\Program Files\WindowsApps\PythonSoftwareFoundation.Python.3.10_3.10.3056.0_x64__qbz5n2kfra8p0\lib\http\client.py", line 1038, in _send_output
    self.send(msg)
  File "C:\Program Files\WindowsApps\PythonSoftwareFoundation.Python.3.10_3.10.3056.0_x64__qbz5n2kfra8p0\lib\http\client.py", line 976, in send
    self.connect()
  File "C:\Users\Darrel\.virtualenvs\viktor-grasshopper\lib\site-packages\urllib3\connection.py", line 243, in connect
    self.sock = self._new_conn()
  File "C:\Users\Darrel\.virtualenvs\viktor-grasshopper\lib\site-packages\urllib3\connection.py", line 218, in _new_conn
    raise NewConnectionError(
urllib3.exceptions.NewConnectionError: <urllib3.connection.HTTPConnection object at 0x000001E5E3A1E530>: Failed to establish a new connection: [WinError 10061] No connection could be made because the target machine actively refused it

The above exception was the direct cause of the following exception:

Traceback (most recent call last):
  File "C:\Users\Darrel\.virtualenvs\viktor-grasshopper\lib\site-packages\requests\adapters.py", line 486, in send
    resp = conn.urlopen(
  File "C:\Users\Darrel\.virtualenvs\viktor-grasshopper\lib\site-packages\urllib3\connectionpool.py", line 844, in urlopen
    retries = retries.increment(
  File "C:\Users\Darrel\.virtualenvs\viktor-grasshopper\lib\site-packages\urllib3\util\retry.py", line 515, in increment
    raise MaxRetryError(_pool, url, reason) from reason  # type: ignore[arg-type]
urllib3.exceptions.MaxRetryError: HTTPConnectionPool(host='localhost', port=6500): Max retries exceeded with url: /grasshopper (Caused by NewConnectionError('<urllib3.connection.HTTPConnection object at 0x000001E5E3A1E530>: Failed to establish a new connection: [WinError 10061] No connection could be made because the target machine actively refused it'))

During handling of the above exception, another exception occurred:

Traceback (most recent call last):
  File "C:\Users\Darrel\Documents\Github\KCAPbv\viktor-grasshopper\run_grasshopper.py", line 27, in <module>
    output = gh.EvaluateDefinition(
  File "C:\Users\Darrel\.virtualenvs\viktor-grasshopper\lib\site-packages\compute_rhino3d\Grasshopper.py", line 57, in EvaluateDefinition
    response = Util.ComputeFetch(url, args)
  File "C:\Users\Darrel\.virtualenvs\viktor-grasshopper\lib\site-packages\compute_rhino3d\Util.py", line 34, in ComputeFetch
    r = requests.post(posturl, data=postdata, headers=headers)
  File "C:\Users\Darrel\.virtualenvs\viktor-grasshopper\lib\site-packages\requests\api.py", line 115, in post
    return request("post", url, data=data, json=json, **kwargs)
  File "C:\Users\Darrel\.virtualenvs\viktor-grasshopper\lib\site-packages\requests\api.py", line 59, in request
    return session.request(method=method, url=url, **kwargs)
  File "C:\Users\Darrel\.virtualenvs\viktor-grasshopper\lib\site-packages\requests\sessions.py", line 589, in request
    resp = self.send(prep, **send_kwargs)
  File "C:\Users\Darrel\.virtualenvs\viktor-grasshopper\lib\site-packages\requests\sessions.py", line 703, in send
    r = adapter.send(request, **kwargs)
  File "C:\Users\Darrel\.virtualenvs\viktor-grasshopper\lib\site-packages\requests\adapters.py", line 519, in send
    raise ConnectionError(e, request=request)
requests.exceptions.ConnectionError: HTTPConnectionPool(host='localhost', port=6500): Max retries exceeded with url: /grasshopper (Caused by NewConnectionError('<urllib3.connection.HTTPConnection object at 0x000001E5E3A1E530>: Failed to establish a new connection: [WinError 10061] No connection could be made because the target machine actively refused it'))