Which tool versions are you using?
viktor==14.5.0
Platform: v2022.x.x??
Python: v3.9
Isolation mode: venv
Current Behavior
(venv) PS C:\Users\xxx\viktor app\CPT-inversion> viktor-cli publish --registered-name norsand-cpt --tag v1.3
INFO: Git repository detected, respecting gitignore.
…ERROR:
Exiting because of an error: CreateFile C:\Users\xxx\viktor app\CPT-inversion\venv\Lib\site-packages\matplotlib-3.7.2-py3.9-nspkg.pth: The system cannot find the file specified.
Expected Behavior
I published this app a while ago, but now this error prevents me from publishing an updated version.
Context (optional, but preferred)
Name | Full name | Latest tag | SDK version | Status
norsand-cpt | norsand-cpt.d5da59ac-03ca-45d6-b7d8-b1095da36692.viktor.ai | v0.1.0 | 14.4.0 | published
I tried to reinstall the app and specified matplotlib == 3.7.2 in the requirement while I don't need it. But it is not working.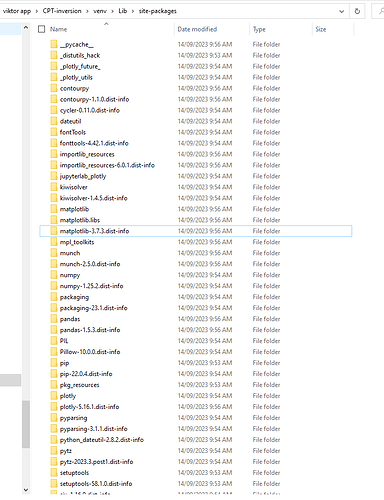 Thanks!